If you love Harry Potter you need to find a way to get yourself in Universal Studios Florida's Diagon Alley. If you don't love Harry Potter you have to find a way to get yourself in Diagon Alley's as well. It´s one of those wondrous places that untie what keep you attached to reality and leave you with a pure desire to surrender to such a fantastic fantasy that it´s easy to forget it all came from the imagination of a single mother, who had to steal hours to Morpheus to be able to write her first book.
Si eres fan de Harry Potter tienes que encontrar la forma de llegar hasta Diagon Alley en Universal Studios Florida. Si no eres fan pues también. Es uno de esos sitios en el que se deshacen todos los vínculos con la realidad y no te queda más que entregarte a una fantasía tan fantástica, que es fácil olvidarse que salió de la imaginación de una madre soltera que escribía en horas robadas a Morfeo.
The amazing attraction, the newest one in the Wizarly World of Harry Potter is turning one year-old this July 2015. The magic is strong and generous, allowing us muggles to enter the land of wizards, witches, magic wands and goblins. It's actually there, at Gringotts Wizarding Bank, the best place to start your adventure. But, I´m getting ahead of myself. Read on to learn the 20 things you should know to have the best experience in Diagon Alley.
La increíble atracción, la más reciente en el mundo de Harry Potter en los parques temáticos de Universal en Orlando, cumple este julio de 2015 su primer año. Allí, la magia es generosa permiténdonos a nosotros los muggles entrar en la tierra de magos, brujas, varitas mágicas y goblins. Es justamente allí en el banco Gringotts, donde trabajan los goblins, que es recomendable comenzar la aventura. Pero me adelanto. Te dejo acá las 20 cosas más importantes que debes saber antes de entrar a Diagon Alley para que tengas la mejor experiencia.
1. Necesitas entradas para los dos parques. Para poder disfrutar la experiencia completa lo ideal es tener tickets para Islands of Adventures y Universal Studios. La parte nueva Diagon Alley está en Universal Studios, pero Hogsmeade está en Islands of Adventure. El tren Hogwarts Express los conecta a ambos en un viaje de otro mundo.
You should have tickets for both parks. The Wizzarly World of Harry Potter expands both through Islands of Adventure and Universal Orlando. They are connected by the Hogwarts Express.
2. Siempre va a haber mucha gente. Aunque sea temporada baja. Pronto te contaré las mejores fechas para ir, pero en estas atracciones tan populares no importa mucho. Planifícate bien si no quieres pasar hora sen una fila, para una actividad de menos de 10 minutos.
Expect crowds even in low season. You need to plan accordingly.
3. Si puedes, quédate en uno de los hoteles de Universal. Puede que no sean los más baratos, pero es una inversión en tiempo, transporte y estacionamiento. Al ser huesped tienes acceso a los parques una hora antes que el resto del público. Hace una gran diferencia. Nosotros fuimos recibimos como parte de un evento organizado por Universal Studios, con alojamiento, comida y entradas de cortesía. Sin embargo, he vistado los parques por mi cuenta y créeme que el paquete de los hoteles de la red cambia la experiencia.
If possible stay in one of the Universals Hotels. You will have the park only for guest for an hour in the morning, which makes all the difference. We went invited to a courtesy trip by Universal, but had gone to the parks on our own in the past. Night and day in terms of comfort and time saved.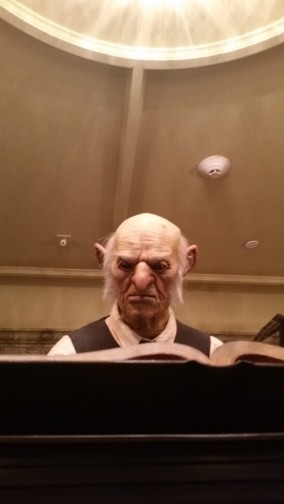 4. Ve primero a Escape from Gringotts. Los muñecos animatrónicos de los goblins son tan buenas, que te tienes que acordar que son como robots. De hecho, son un poco freaky. El lema del banco es Fortius Quos Fidelis: La lealtad nos hace fuertes. ¡Un gran mensaje para los niños! Las interpretaciones de mis hijos a la frase me mantuvieron bien entretenida en la fila que, a pesar de que íbamos en un grupo VIP, no fue corta, pero súper valió la pena.
Start with the Escape from Gringotts ride. It´s the main attraction in Diagon Alley and it gets very busy as the day wears on. Be prepared for the goblins to be freaky, the surroundings amazing and the kids pumped.
5. Para niños de poco más de un metro de altura. El ride es increíble. Es una montaña rusa, no demasiado acelerada o empinada, de 600 metros, como 2.000 pies, que te lleva con Bill Weasley, el hermano mayor de Ron, el amigo pelirrojo de Harry, en una aventura en 3D (con lentes y todo) en la que te encuentras de frente con villanos como Belatrix y aquel que no debe ser nombrado. El propio Voldemort. Al final Harry, Ron y Hermione te felicitan y tu te sientes que has completado una gran hazaña. La altura mínima es de 1 metro 7 centímetros, y 3 pies 6 pulgadas.
The ride is for smaller children. Not toddlers, but taller than 1.7 mts and 3.6 feet. It´s a tame rollercoaster and although you don´t get to hang out a lot with Harry, Ron and Hermione, you do defeat Voldemort.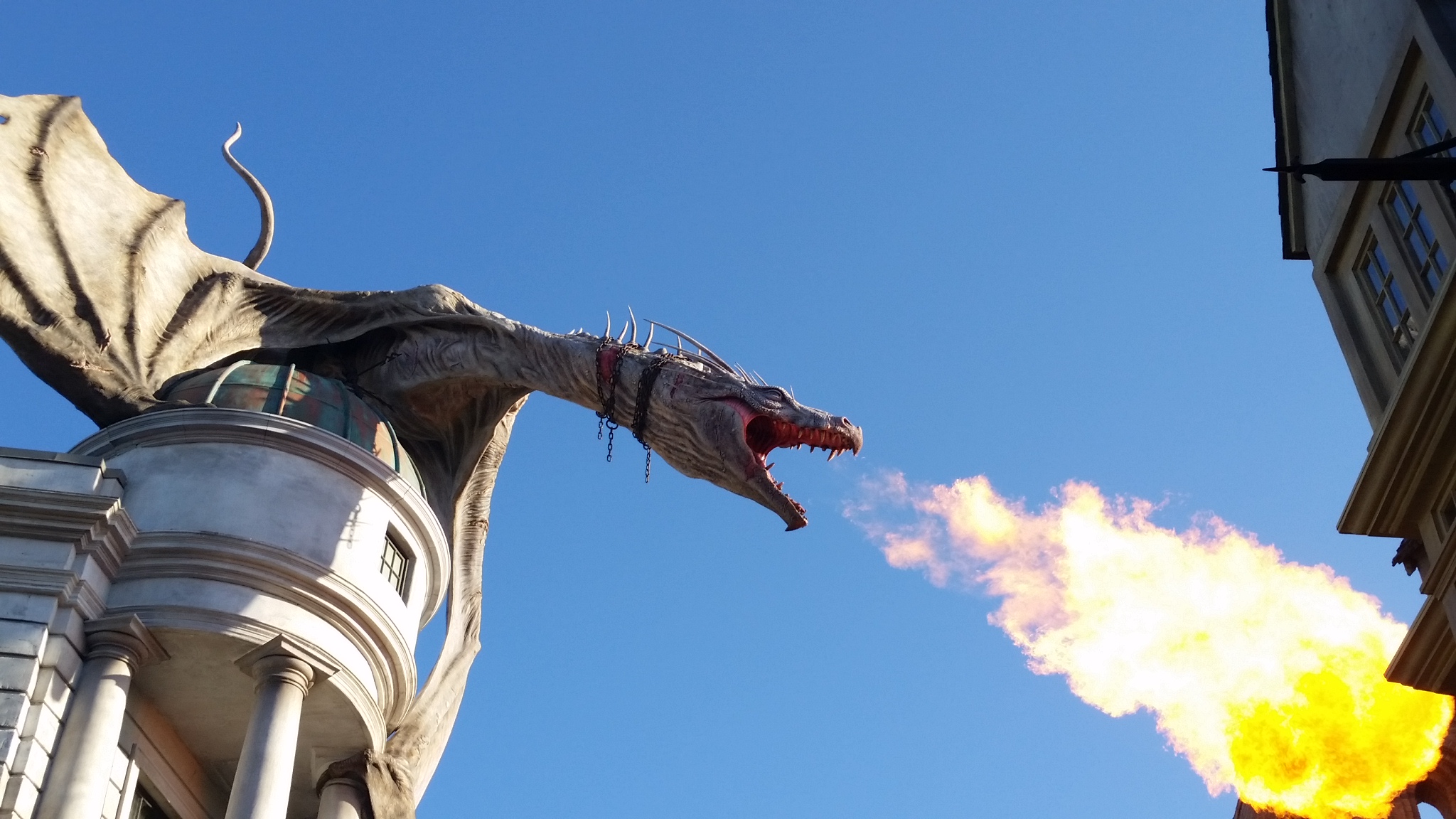 6. Espera a que eche fuego el dragón. Las llamas son de verdad y hasta vas a sentir el calor en la piel. El dragón está sobre el banco de los gringotts, de donde acabas de salir. Ahí ya terminaste la primera atracción. Si todavía es temprano y las masas de personas recién están entrando al parque, es hora de un paseo en tren.
Wait for the dragon to breathe fire, you won´t be dissapointed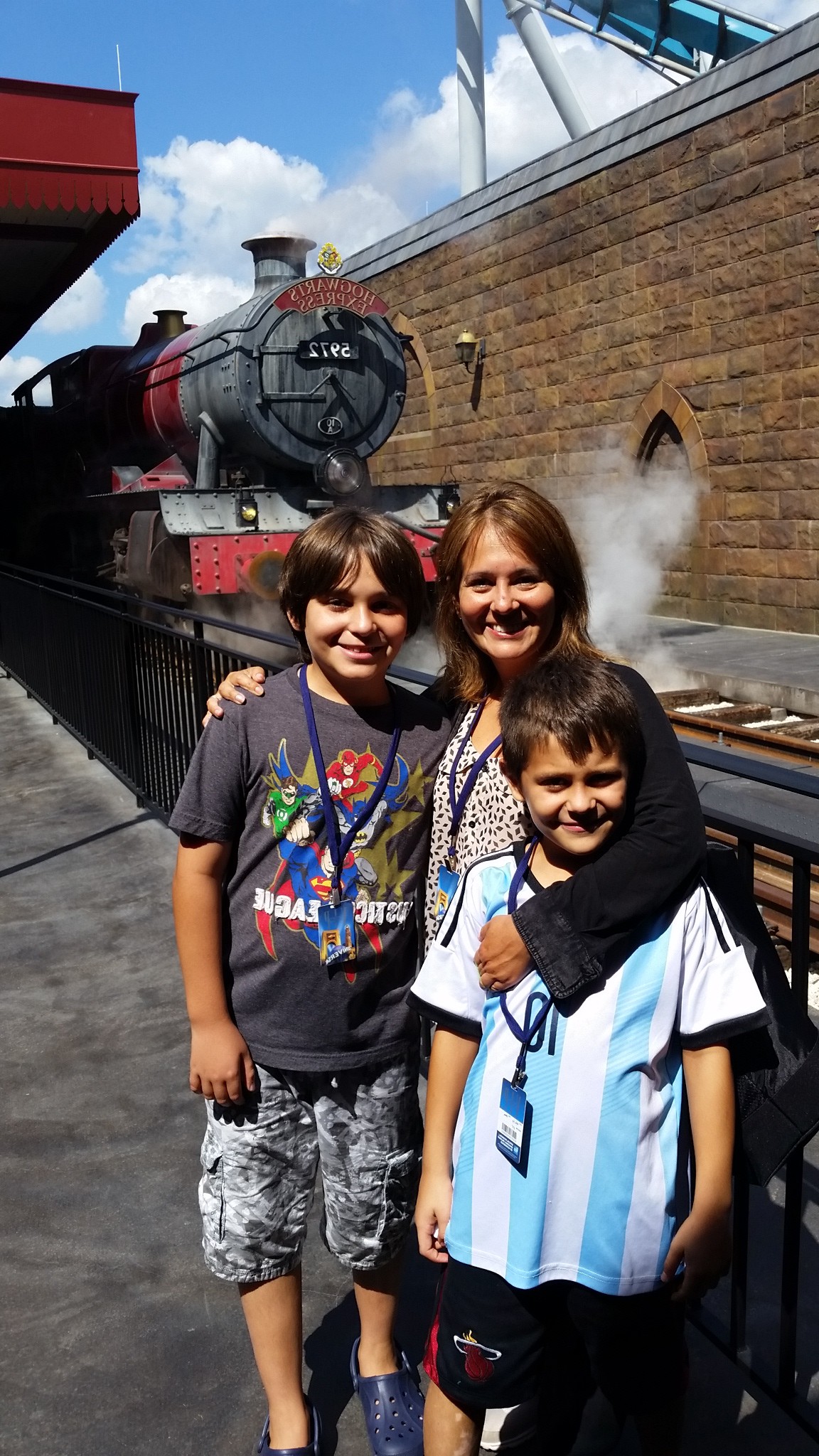 7. A bordo del Hogarts Express. Mis hijos y yo somos fans furibundos de Harry Potter y nos sentíamos como dentro de la película, fue una de esas experiencias de las que hemos seguido hablando y sé que nos unirán de por vida.

All aboard the Hogarts Express. Try to watch at least one of the Harry Potter movies before you go and get ready to feel inside it.
8. Disfruta de los rides en Hogsmeade y regresa a explorar los restaurantes y las tiendas. No importa si no quieres comprar mucho. La experiencia visual, olfativa y de gusto es inolvidable.
After you enjoy Hogsmeade come back to really explore Diagon Alley
9. La comida no es muy variada, pero deliciosa. Universal nos invitó a almorzar en el Leaky Cauldron. Es una especie de pub inglés y la comida es bastante típica británica. Mis hijos soñaban con una hamburguesa o unos nuggets de pollo, como los que no pueden comer en casa. Ni el fish and chips o el cotagge pie les llamaron la atención y escogieron un delicioso macaroni and cheese. A mí me gustó mucho que hubiese pan sin gluten, muy rico. Sin embargo, lo que merece un aplauso son los postres y eso que no te he hablado del helado de butterbeer.
The food is traditional English fare. My Latino-American (Not Latin-American) children were not enticed, but we all loved the desert and as a person with gluten allergies, I appreciated the delicious gluten-free bread.
10. Una heladería y pastelería como las mejores del mundo. Florean Fortescue's Ice-Cream Parlour
te va a cambiar la vida y no te resistas. El sabor del helado de butterbeer te va a acosar en los peores momentos de tu dieta. La suerte es que solo lo venden ahí. ¡Pruébenlo!

Try the butterbeer ice cream in Florean Fortescue´s Ice-Cream Parlour. The taste will haunt you on the darkest days of your diet, but it´s soooo worth it.
11. ¡Vas a comprar una varita mágica! Hay de dos tipos, una que no hace nada y una electrónica que interactúa, vía ondas de radio, con alguas decoraciones en las ventanas de las tiendas. Haciendo el movimiento adecuado y con las palabras mágicas puedes hacer llover y abrir y cerrar cortinas, entre otras cosas.
You will buy a magic wand. It´s inevitable so don´t waste time fighting it. My only advice is to make sure to get the electronic (alas more expensive one) if you or your children want to do the spells. In many stores of Diagon Alley there are spots where you can "practice" your magic, given that you say the magic words and move the wand appropriately.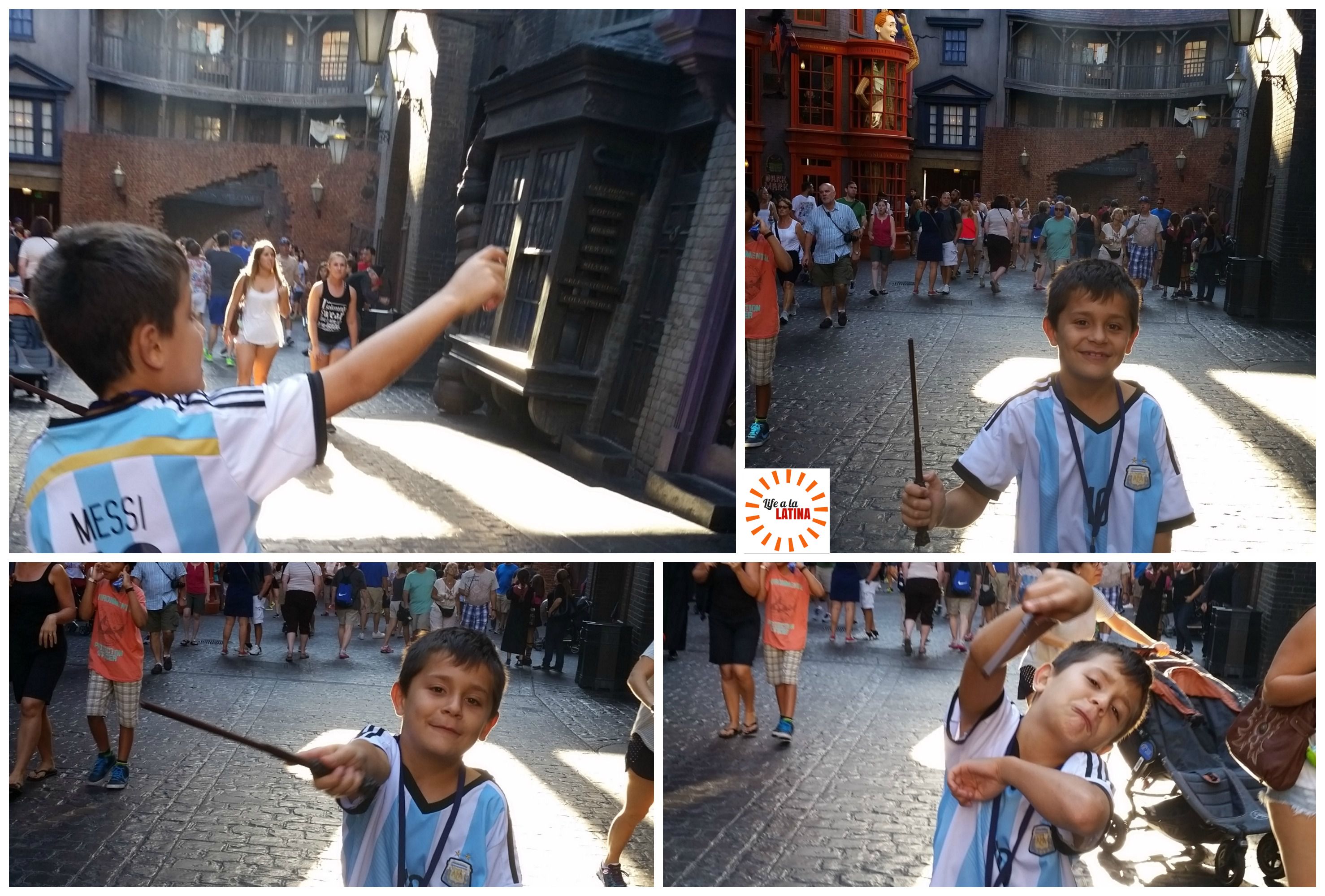 12 Parte de ti se quedará para siempre en Diagon Alley. Para nosotros resultó mágico el entrar al mundo de J.K. Rowling en ladrillos, vidrio y metal. Para mí, como alguien que se gana la vida jugando con palabras, fue una confirmación de que el problema no son los libros, los diarios o las revistas. La gente se quiere entretener y si eres tan talentosa que las enamoras, puedes tener hasta dos parques temáticos recreando tus oraciones en la vida real.
Part of you will stay in Diagon Alley.