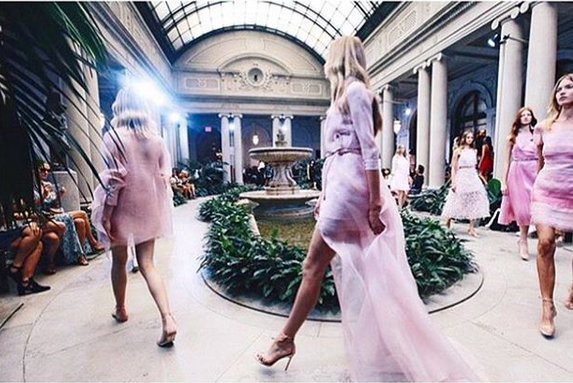 La hermosa colección de Primavera-verano 2016 de Carolina Herrera fue presentada ante un exclusivo público de 200 personas, en la hermosa mansión-museo Frick, en la Quinta Avenida de Nueva York. El punto de inspiración fue su fragancia Burning Rose (Rosa ardiente), de su nueva línea de perfumes Confidential.
The more the merrier? Not for Venezuelan designer Carolina Herrera, who decided to make her show during the New York Fashion Week of September 2015 more exclusive than ever.
Herrera became the first fashion designer to ever be allowed to host a show at the exclusive Frick House, and filled the gorgeous mansion with pink roses and 200 of her closest friends and fans. (Last show had 900 invitees)
Her Spring 2016 collection spoke of femininity with mostly gorgeous pinks. Pleats, texture and even crop tops.
"I am in my rose period," she explained after the show, noting that a scent, Burning Rose, from her recently released Confidential collection of six fragrances, also served as an inspiration. "I started with very light shades, and then gradually everything got more intense. And for a woman to wear pink, it's so flattering; it frames her face beautifully."
Images vía House of Herrera Fans/Instagram