I went to see Minions with bickering children and in a terrible mood.
Fui a ver la película con niños peleando y de un humor de perros.
Full disclosure: I love the minions. I love the minions like some people – adults- love Minnie, Batman, Darth Vader or Hello Kitty. With a mix of awe and embarrassment. I´m just letting you know, because my opinion about the movie Minions may be a little biased although I doubt it. Not because I believe in objectivity. Believe me, I drank the KoolAid in journalism school, but it lost the effect on me. I don´t believe that anybody can be anything but subjective.
Aclaratoria: Amo a los minions. Mi adoración por ellos es igualita a la de la gente -adultos- que se babea por Minnie Mouse, Batman, Darth Vader o Hello Kity, con una mezcla de fascinación y vergüenza. Aviso porque mi opinión sobre la película Minions podría estar un poquito influenciada por eso, pero no lo creo. No lo digo porque crea en la objetividad. Yo comulgué en esa escuela en mis años de periodismo, pero mi fe murió. No creo que ningún ser humano pueda ser otra cosa que subjetivo.
Lamentablemente para mí, no logré despejarme lo suficiente como para salir en la nube amarilla en la que me dejan estos personajes de Universal. Bueno para ti, porque te puedo dar una opinión decente. En un día normal los minions me hacen sonreir automáticamente.
Since I didn´t come out of the movie theatre in the happy cloud of custard that I was expecting, I can give you an opinion.
Dicho esto, la película vale mucho la pena, en especial si tienes niños. That said, it´s a cool movie to see, particularly if you have a kid or two to take with you.
Here are my 10 reasons to see Minions. Aquí mis 10 razones para verla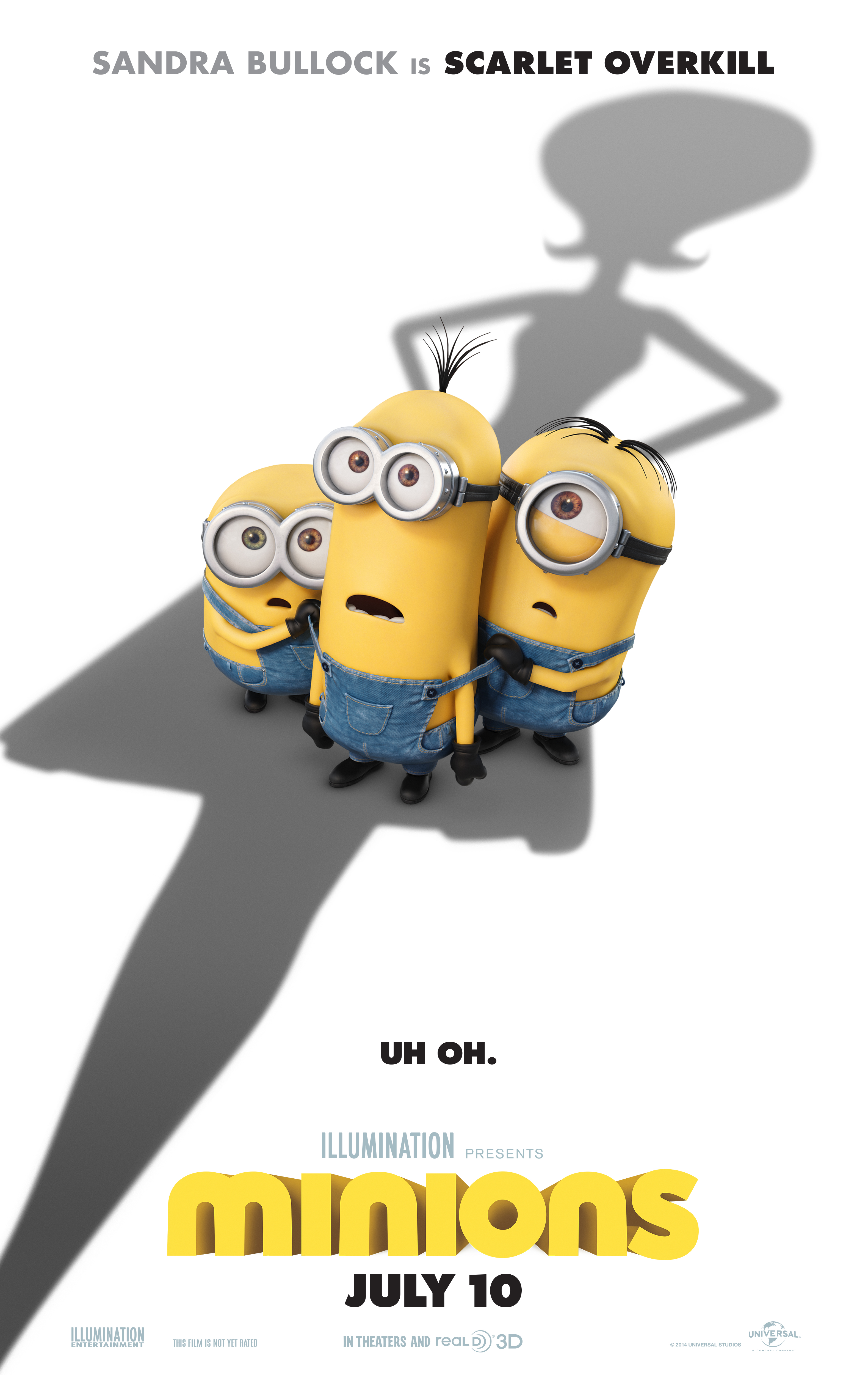 1. Entretiene a todas las edades, la encuentro una cinta perfecta para llevar a un niño chiquito al cine por primera vez. Mis hijos de 9 y 12  y también la disfrutaron muchísimo.
It´s fun for all ages, I think it´s kind of the ideal film to take a kid to the movies for the first time. My sons — 9 and 12 — really enjoyed it.
2. Tiene referencias de historia universal que dan para conversaciones increíbles. No hay muchas oportunidades en la vida para hablar de los egipcios en un contexto divertido.
It shows historical references that can be great prompts for great chats. There are not many opportunities to talk about the Egyptians in a fun context.
3. La banda sonora es extraordinaria. Estoy hablando de la música de grandes bandas como The Doors y The Who.

The soundtrack is amazing. I´m talking The Doors and The Who.
4. Tiene un humor tan inteligente que puede ser blanco y negro al mismo tiempo. Escuché a un niño de cinco años y a su abuelo riéndose a carcajadas al mismo tiempo.
The humor is really smart. So much, that the same image can have in stitches a 5 year-old and his grandfather, for totally different reasons.
5. The muestra la lealtad por tu tribu hasta las últimas consecuencias.
Teaches about loyalty to your own tribe not matter what.
6. El "minionés" tiene bastantes palabras en español

The creators invented minionese, a language with lots of Spanish words.

Con mi minion
7. Los actores principales Sandra Bullock, Michael Keaton y Jon Hamm son comiquísimos. Me muero de las ganas de escuchar la versión en español con Thalía y Ricky Martin.
The voice actors: Sandra Bullock, Michael Keaton y Jon Hamm are hilarious.
8. Es increíble como los minions transmiten tanto con su cuerpo. Es animación de primera clase. No hace falta entenderles.

The comedy goes to the roots of slapstick and delivers. After all, who speaks minionese.
SPOILER ALERT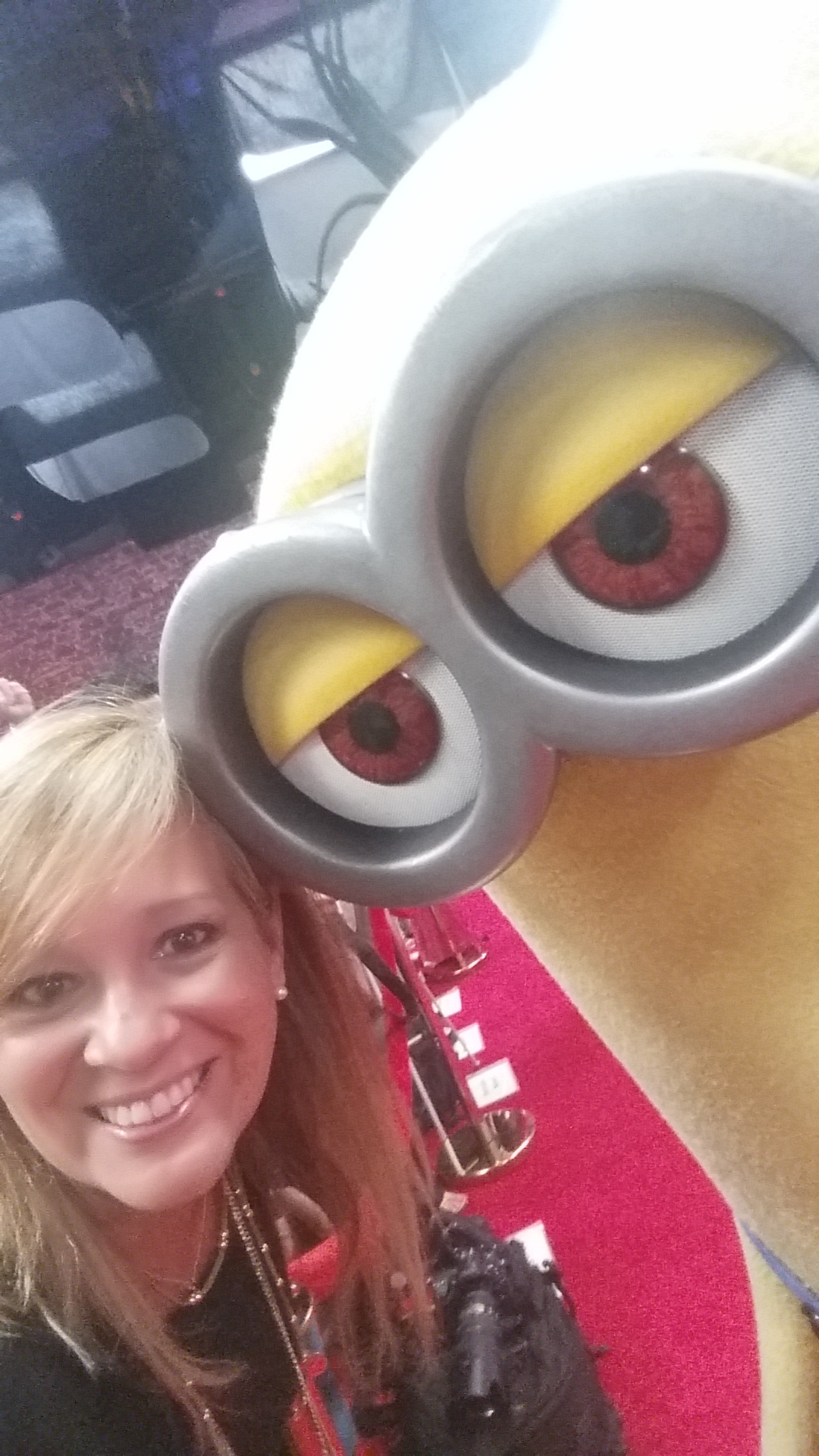 9. Aprendemos cómo conocieron a Gru
We learn how they met Gru
10. ¿Cómo perderse a Stuart en tanga?
Stuart in a thong.
I loved it, my kids loved it. It won´t rock your world, but anybody with young children will download it and see it hundreds of times. Will it become a classic? I doubt it, but you won´t come out of the movie theater wishing you had spent those 90 minutes watching Terminator Genisys or Magic Mike XXL. One thing rubbed me the wrong way though, what´s up with the minions needing to follow some villain to thrive?
A mí y a mis niños nos gustó. No va a quedar en una de las mejores 10 películas para niños de todos los tiempos, pero los que tienen hijos pequeños la van a tener que comprar y verla cientos de veces. Te aseguro que no vas a salir del cine deseando haber pasado esa hora y media viendo una novela o el fútbol. Solo una cosa me molestó: ¿Por qué será que los minions necesitan seguir a un líder malvado para ser felices?