I expected to be star struck. After all, Eva Longoria is one of the women in showbiz I admire the most. But the energy I felt as I was sitting down to interview her, Cuban-American actor and singer Jencarlos Canela and Puerto Rico veteran Amaury Nolasco about NBC´s Telenovela, was so cool that I forgot to be nervous.

"I´ve met you before, right," said Jencarlos Canela to me leaving me in shock. Can you imagine how many interviews this gorgeous man must do in a year? I had talked to him a year and a half ago  during a Billboard conference. "I know there is not much time scheduled so we´ll talk as fast as we can to give you good material," added Eva Longoria. You can imagine not many stars are as considerate. We were off to a great start.
NBC´s new sitcom tells the story of a telenovela star, who doesn´t speak Spanish, and everything that happens in the set Las leyes de Pasión. I had the chance of seeing the first two episodes in advance and they really are a delight. Canela is a natural comedian and Longoria shows some slap-stick moves that we haven´t seen before. She is funny, over the top and vulnerable. Telenovela will make you laugh, but is also endearing while sending not too subtle messages to all of those people that think that all Latinos are the same.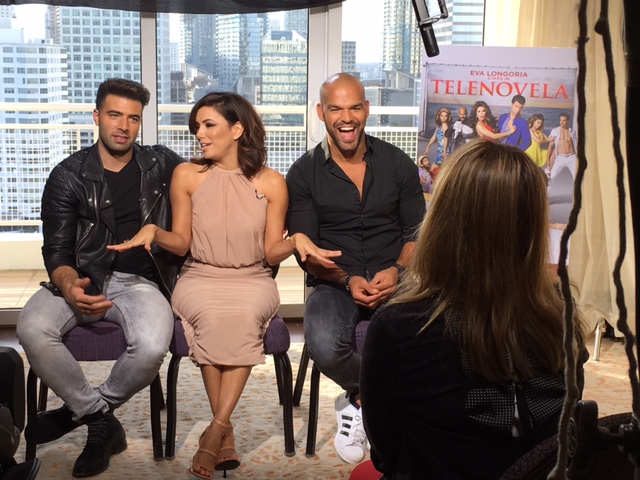 Eva Longoria went through the motions, raving about Canela, her co-star and love interest in Telenovela, and Nolasco, one of the villains. But there was more. She was present, engaged. Our eyes locked more than once and I could tell she cared that I understood why the show may seem silly but it´s important. How making fun of telenovelas and maids (She is the executive producer of Lifetime´s Devious Maids) it´s her way to get Middle America to open the door and then show them how Latinos really are. She doesn´t seem to care so much about the package, as for the substance. The message Telenovela sends is ´Look people, we are just like you: Hard workers, crazy, funny, imperfect, and we come in many different flavours. You can dump your ignorance here while you laugh. Gracias.´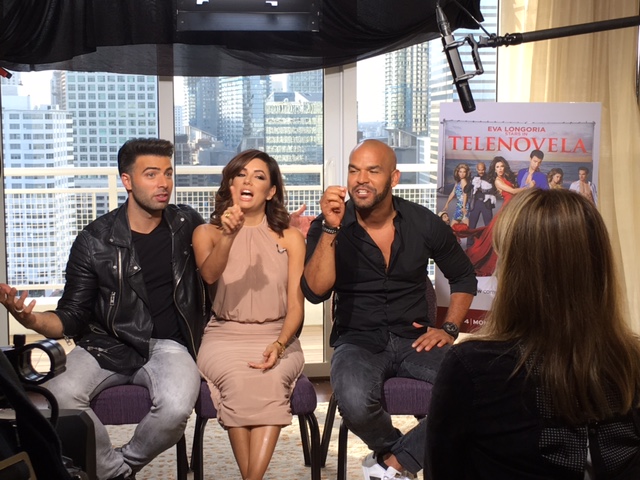 The main character Ana Sofía doesn´t speak Spanish and hates spicy food. A.   I love how she is taking on stereotypes one by one, while anchoring her sit-com on one. Truly Eva, I know you are dating a Televisa executive, but not all telenovelas have "that diction, the stare and the cachetada."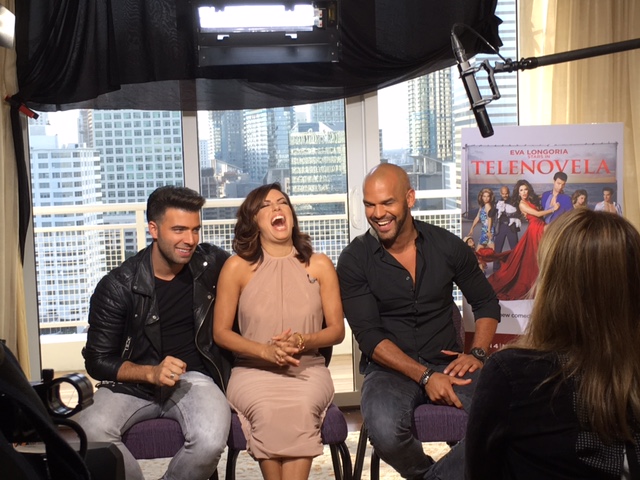 She did talk fast -they all did – and they said a lot. We talked about Canela getting his comedy chops, Nolasco and the boricua flavor. We even got to diss Gabby Solis, her character in Desperate Housewife and the one that made her a household name around the world. "She was a narcissist. A horrible wife, a horrible friend," Eva said.
You can see the interview in the video that follows. But the most important part happened when the taping had stopped. I had to take my 13 year-old to the interview. He took this pictures and when we were done Jencarlos Canela looked up and said: "Is that your kid?" and got up immediately to invite him to be part of a photo. My son was shy and tried to refuse. Eva Longoria herself moved chairs and grabbed his hand to make him seat. Of course, they won my heart. They are good people and the show is good. Watch tonight´s preview after The Voice, or catch it online. You won´t be disappointed.