Mowgli es un extranjero en el mundo de El libro de la selva. Mowgli is a foreign alien in the world of The Jungle Book.
Le amenaza un tigre muy rubio y de mal talante, que le hace bully a los animales que viven en manada. Un depredador resentido que quiere usar el miedo al fuego para hacerles odiar al niño-lobezno que se ha pasado prácticamente toda su vida entre ellos. ¿Tiene algún parecido con la realidad que vivimos los latinos en Estados Unidos? Mis niños piensan que sí y me lo confirmó en una entrevista su director Jon Favreau, quien a pesar de ser un cineasta tan versátil que ha dirigido Ironman 1 y 2, Chef y Elf, entre otras, paró sus entrevistas para conversar con mi hijo mayor y hasta hacerle un regalo.
Para mis chicos, el tigre Shere Khan es como Donald Trump, promoviendo el miedo y de actitud beligerante. El resto de los animales son el resto de su entorno. El espacio en el que se sienten felices, apreciados y tranquilos. "Este es mi hogar", dice Mowgli en la cinta cuando decide enfrentarse y pelear. Idris Elba le prestó sus expresiones y su voz al feroz animal.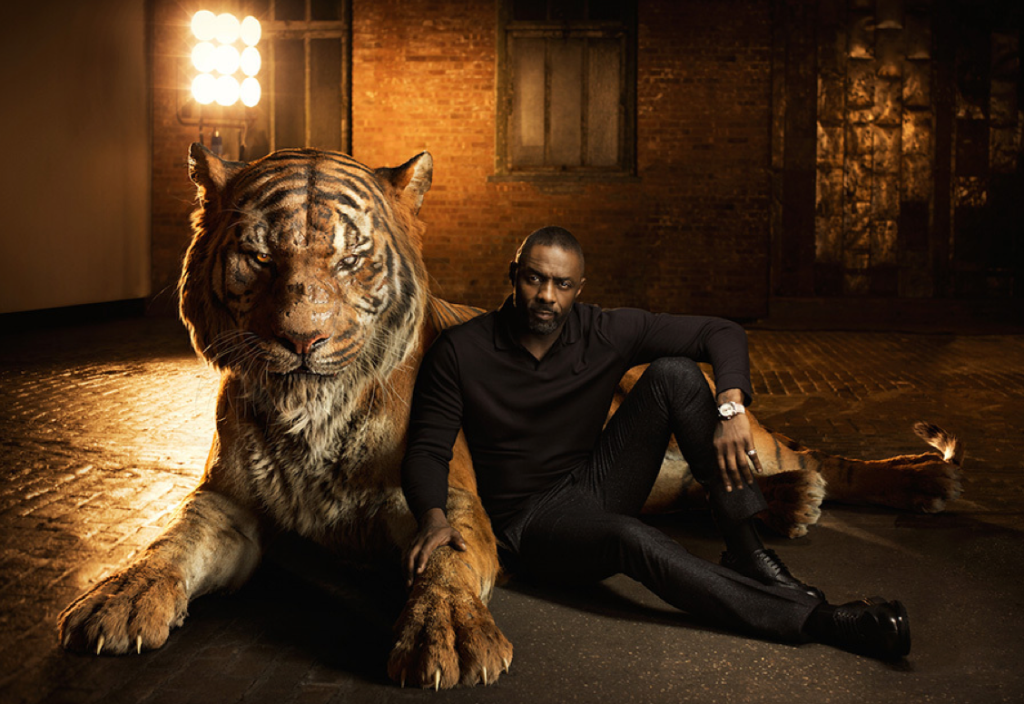 "Estos temas (de exclusión) suceden en cada período (de la historia) por eso si se cuenta el mito adecuadamente nos ayuda a todos a conectarnos y a crecer como cultura",  me dijo Favreau en una entrevista en Miami.
Le pregunté al respecto porque después de ver la increíble película hablamos detalladamente sobre el ambiente político en el país. Mi pequeño de 10 años se sintió reconfortado por la amistad de Mowgli con Baloo, interpretado por Bill Murray. La protección hermosa que le ofrece la pantera Bagheera, encarnado nada más y nada menos por Ben Kingsley.
Sin embargo, para Neel Sethi, el único humano en la película, quien a los 10 años que tenía cuando se realizó la filmación jamás había si quiera actuado en una obra de teatro, fue hacer las escenas emocionales en la cinta, pues tenía que actuar contra la ausencia. Durante nuestra charla me impresionó el detalle de sus descripciones
Todos los animales fueron creados con una avanzada tecnología de CGI. El resultado es impresionante y sin duda está haciendo historia en múltiples frentes. Nunca había visto algo así y la maravilla que sentimos mientras estabamos sumergidos en El libro de la selva se ha quedado con nosotros, aunque ya hace casi un mes que disfrutamos un screening anticipado.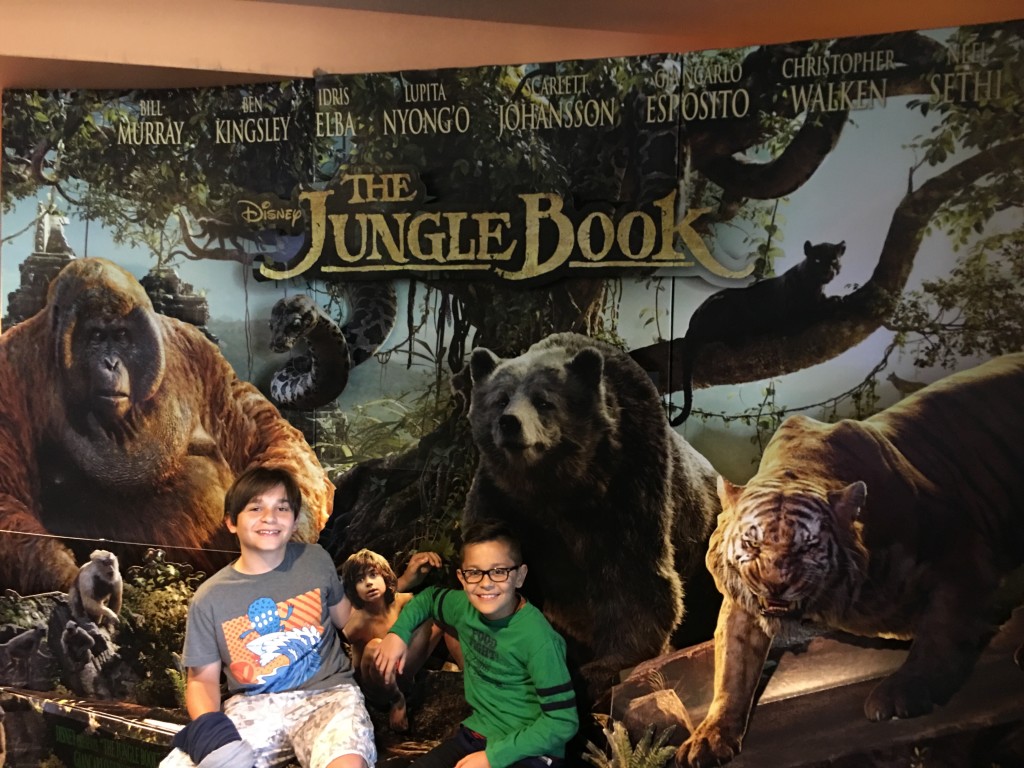 Mis hijos y yo le hemos recomendado la cinta a todo el que nos pregunta, y al que no también. No verla en el cine es perderse de una experiencia extraordinaria. Nos ha dado para muchas conversaciones, más allá del tema de ser el otro en su propia cultura. El amor de la madre, como funcionan las adopciones, lo importante que es descubrir cuál es el talento propio y no tratar de ser como los demás, como el trabajo en equipo lo puede lograr todo. La lista podría ser interminable. Un detalle, quizá niños menores de seis años se asusten con algunas escenas.
Para que te des cuenta de cuán especial es esta película y lo diferente que fue mi experiencia para mí, tuve el honor de pedirle al pequeño su primer autógrafo. Cuando le entregué esta nueva edición del libro para que me lo firmara, se rió  y no sabía ni qué escribir. "Pon tu nombre", le dije y así lo hizo.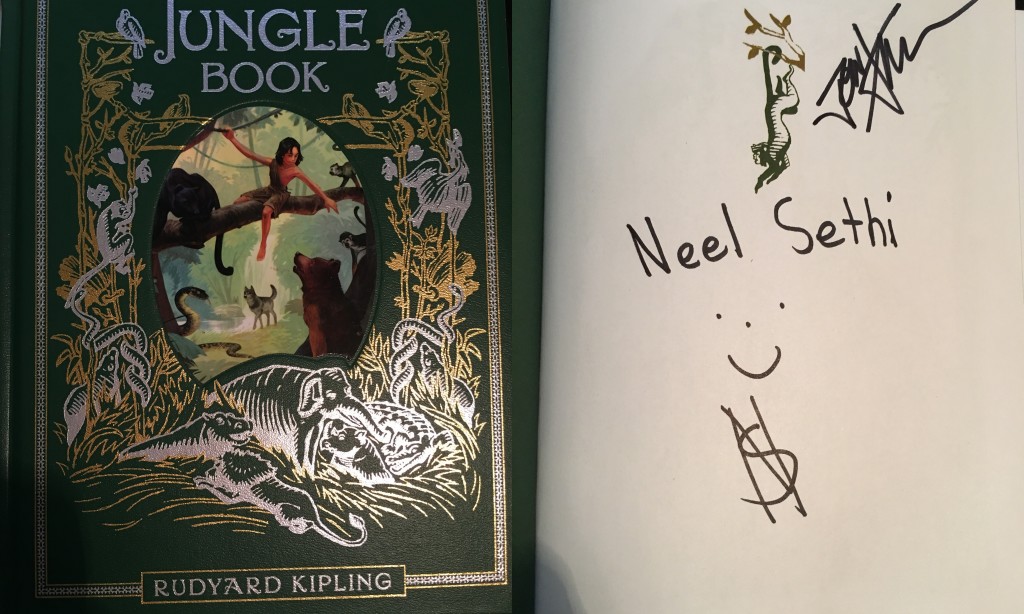 I had the honor of interviewing Jon Favreau and Neel Sethi. We talked about how hard it was to do scenes alone, without experience or acting partners. The meaning of a story that highlights the otherness in a community. How everybody can make their own family and the feeling of creating a movie that means a lot for a lot of people.
Mr. Favreau gave my son an amazing gift. The coins in the picture above and talked with him about movies, youtubers and his own kids. Neel Sethi even have me his first autograph. Both watching the movie and meeting them were extraordinary experiences.
You can see the interview in the video below and go and enjoy the movie. If you can let me know what do you think and what did you and your kids talked about afterwards.